SHV200 - precise and simple
Block height measurement and control for best production results
The SHV200 manufactured by R&W is a product height control system based on the proven SHV500 system. The system provides a cost-effective entry-level device for the precise measurement of small-sized concrete products. The maximum height of products that can be measured with the system is 190 mm - so the SHV200 is ideally suited to the production of paving blocks.
The SHV200 enables contact-free measurement and height control of vibro-pressed products. It can be used as a stand-alone unit or integrated into the control system of the block machine from any manufacturer.
The SHV200 height control system from R&W enables contact-free measurement of blocks using laser sensors. The laser's measurement frequency is 2,000 Hz, so that it accurately measures products with an accuracy of 0.5 m/s. The measured values are analysed using the SHV200 controller, which is located in an external switch box attached to the arm of the device.rowniczej, mocowanej do ramienia urządzenia.
Like the HCS500 sensors, this controller can be easily connected to other controllers and display devices via Ethernet.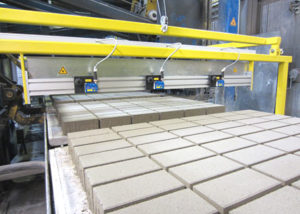 2. Block height measurement method:
The system's measuring devices are located directly behind the block machine above the conveyor of the production boards. The products passing underneath the device on the production boards are scanned without any contact by three lasers and scanned with an accuracy of +/- 0.5 mm.
The measuring range of the block height ranges from 20 mm to 190 mm.The height of the block is determined by the difference in relative height between the top surface of the products and the top surface of the board. This method of measurement eliminates inaccuracies that can be caused by different heights and quality of production boards.
3. Visualisation software:
The heights of one row of concrete blocks are recorded by up to 2000 measurements per second. This allows the SHV200 to take precise measurements at transport speeds of up to 0.5 m/s.
To determine the height of a block, only the relevant surface features are evaluated and the measurement result is not falsified by obliques, burrs, indentations or rough surfaces.
A multilingual web visualisation programme is available to operate the SHV200 system.
Based on the values read by the laser sensors, the individual block heights are calculated: the average height for the entire row and the average height for the entire pallet. The block height parameters are displayed in a web browser using the integrated web visualisation system.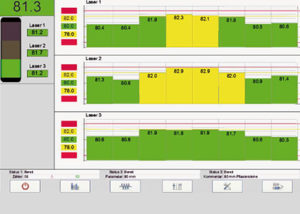 An investment in SHV200 is an investment in precision and simplicity.
Here are the advantages of the system:
◎ Measurement and control of block height for best production results.
◎  Optimisation of quality and cost savings through reduced waste.