QUADRIX® - System for accelerated concrete curing by controlled supply of heat and humidity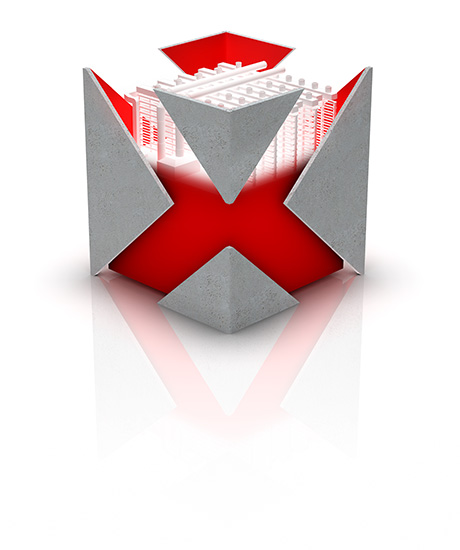 The QUADRIX® system for accelerated concrete curing makes it possible to maintain constant curing conditions throughout the curing chamber (temperature 35 - 38°C, humidity 97 - 99%). Precise control of temperature, air circulation and humidity accelerates hardening, improves the appearance and quality of the products and reduces production costs.
Kraft Curing Guarantee:
• consistent curing temperature across the chamber equal to +/- 1 °C
• consistent relative humidity equal to +/- 3% across the entire chamber
• consistent air velocity of ≤ 1 m/s
• curing conditions adapted to the requirements of the production process
Customer benefits:
• significantly reduced hardening duration
• less breakage
• consistent colour and reduced risk of efflorescence               • elimination of condensation on chamber surfaces
• up to 10% reduction in cement quantity, reduced number of racks and production pallets
1.
curing chamber enclosed by insulated sandwich panels - reduced energy loss (possible to make the housing yourself according to construction drawing, instructions and parts from Kraft)
2.
corrosion-resistant steel construction and sensors (photodetectors or laser sensors) to ensure correct temperature and relative humidity levels (no misting or condensation in the chamber)
3.
The Quadrix system manufactured from stainless steel, aluminium and galvanized materials with high-efficiency radial ventilators in the ventilator unit. Warm air generator with stainless steel heat exchanger - achieves up to 94% efficiency
4.
AutoFog humidifying system supplying atomised water at low humidity. The water is pre-filtered, descaled and antimicrobially treated.
5.
Vertical air ducts for even heat and humidity distribution / constant low air flow thanks to ventilation valves
6.
AutoCure® controller to regulate, monitor and record the temperature and humidity of the air in the chamber (separately from each other)
7.
AutoCure-controlled exhaust system with an electric motor-driven valve removes excess humidity from the chamber
8.
Chamber inlet and outlet openings (letter-box style) fitted with warm air curtains and optional doors to prevent moist air escaping from the chamber into the production area. The frame is heated to prevent moisture condensation on the fresh concrete product.