Automated systems for handling concrete products
Concrete pipes, manholes and box culverts are heavy, difficult to handle and easily damaged products, especially when they are to be transported in the uncured state.
To ensure the smooth circulation of products in a plant Hawkeye Pedershaab and BFS offer a full range of automated solutions that address all the problems associated with transporting concrete products.
Whether it's safely conveying a freshly manufactured 300 mm diameter concrete pipe from the pipe machine to the curing area, where the slightest acceleration can damage the product, or transporting a hardened 3,000 mm diameter concrete pipe and getting it out of the building untouched by human hands, Afinitas offers the knowledge and expertise needed to handle these tasks.
United under the Afinitas banner, the HawkeyePedershaab and BFS offerings include solutions for handling almost every conceivable concrete product: systems for handling round pipes, elliptical pipes, box culverts, manhole risers, cones, gutters, bases and slabs - and combinations thereof.
AUTOMATIC DE-MOLDING CRANES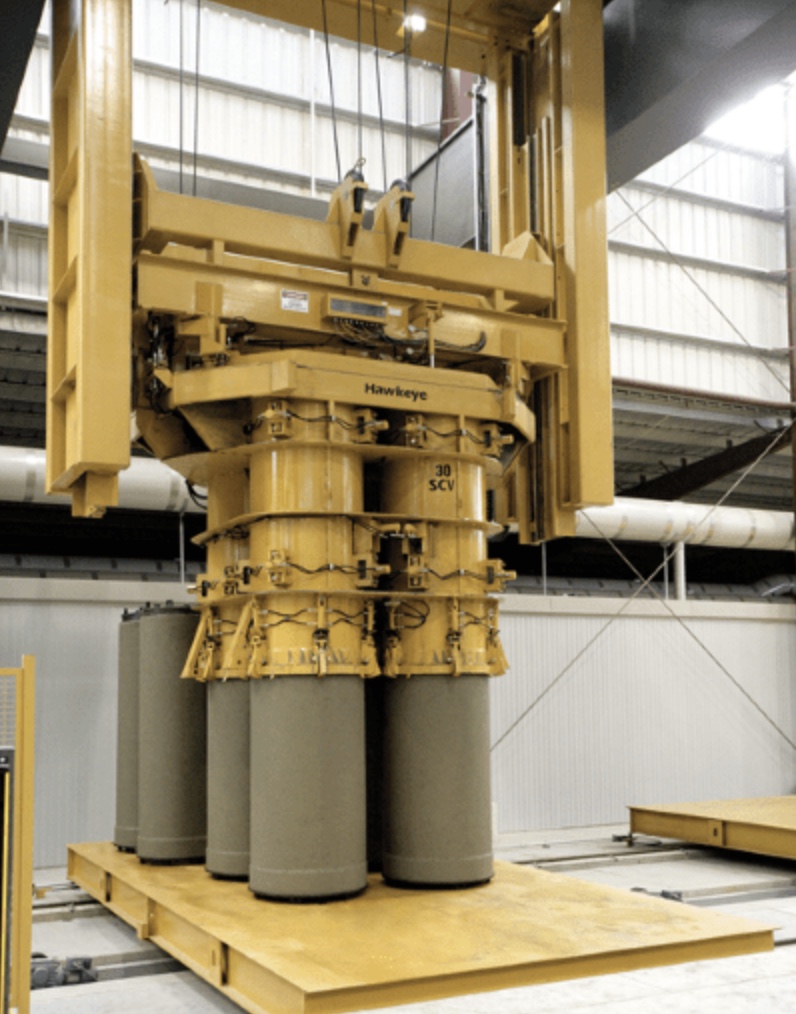 Afinitas offers automatic and reliable solutions for moving fresh concrete pipes from the machine to the curing area - whether it is a self-stripping machine, a crane or a forming head.
In many precast plants, this is often the most critical piece of automation ensuring that the plant remains efficient and productive at the highest level every day.
Benefits:
◎  Reduces labor and ensures consistent machine cycle times
◎  Increases plant safety by keeping workers away from risky tasks
◎  Advanced drive and positioning systems ensure precise control of all movements
◎  High-performance integrated process control systems
◎  Available in a wide range of configurations and suitable for both moving-floor and open-floor plant layouts.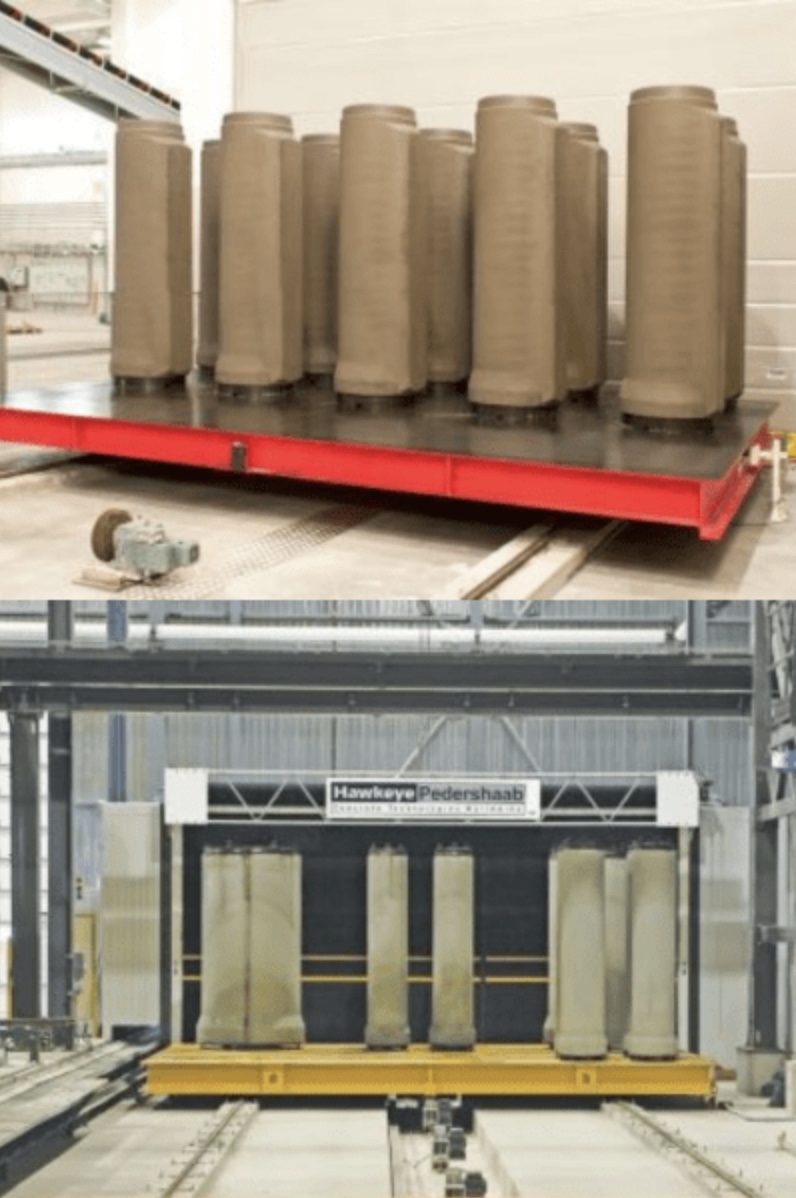 An effective way to care for concrete products is to use a moving floor system.
By using such a system, concrete products can be immediately transferred into an environment with controlled humidity and temperature and run through a carefully controlled curing process. This process results in a sufficiently cured product in about 6-8 hours, which can be handled automatically with confidence.
Afinitas moving floor systems consist of a series of large, flat pallets on which concrete products are placed.
The pallets move along rails mounted in the floor and are carefully controlled by rubber drive wheels mounted in the floor. They move the concrete products through the pre-curing, proper and post-curing chambers and finally to an automatic unloading station, where the cured products are removed from the pallet.
After that, the unit returns to the production machine for the next products.
Bemefits:
◎  Variable-frequency rubber drive wheels allow careful acceleration and deceleration of concrete products to prevent damage
◎  RFID system for each flat pallet to ensure proper identification of products throughout the production process. 
CONCRETE PIPE SET RING REMOVAL
For automated concrete plants that use temporary set rings rather than stay-in-place headers, Afinitas provides manipulators that remove the ring from the concrete pipe or manhole after the concrete has initially set and return it to the machine for reuse.
This is a critical safety element in the plant, as it prevents plant workers from entering areas where automatic equipment is operating.
In addition, Afinitas offers solutions for handling and returning the set rings for both moving-floor curing systems and open-floor, crane-based curing systems.
Benefits:
◎  Elimination of costly in-plant labor
◎  Increase plant safety by keeping workers away from automated equipment
◎  Automatic adjustment to all sizes of set rings
◎  Adaptable to layouts with a moving floor as well as an open floor.
AUTOMATIC PIPE HANDLING CRANES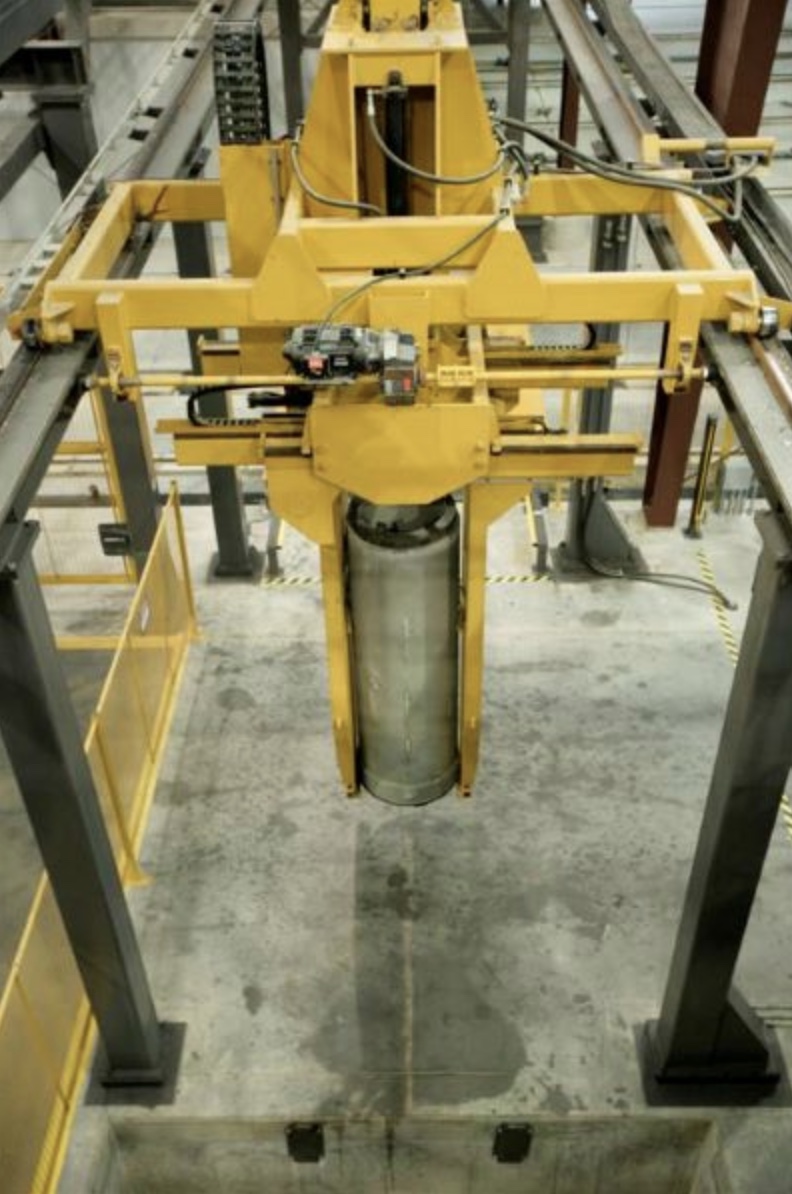 In order to keep the production machine in an automated concrete plant running at peak efficiency, it is important to eliminate any bottlenecks in the production phases.
A common bottleneck in a plant is the process of removing hardened concrete products from the curing system to make space for new, fresh products.
For this process, Afinitas offers numerous solutions for different plant configurations, including plants with moving or open floors.
Benefits:
◎  Eliminates costly in-plant labor and ensures consistent machine cycle time
◎  Increases plant safety by keeping personnel away from processes
◎  Automatically adjusts to all product sizes
◎  Ability to handle concrete products with round, box, curved and oval shapes
◎  Soft, computer-controlled movements to prevent damage to the product
◎  Adaptable to work in both moving floor and open floor plants.
PALLET REMOVAL FROM CURED CONCRETE PRODUCTS
One of the most time-consuming processes in a pipe or manhole factory is removing the pallet from the cured product.
For this task, Afinitas has designed a number of palletizing solutions, each tailored to a specific stage.
They use a combination of high-frequency horizontal pneumatic impact and vertical hydraulic pulling to ensure fast and gentle removal of the pallet from the product.
In fully automated systems, the pipe or coil is fed into the palletizer by an automatic manipulator, while in autonomous or semi-automated systems, the pipe is transferred to the palletizer by a forklift or electric transport truck.
Benefits:
◎  Eliminates dangerous and time-consuming work
◎  Protects pallets from damage caused by manual sledgehammer strikes
◎  Flat surface with cleanout pit below for easy cleaning
◎  Can be pulled out from outside or inside the pallet
◎  Easily replaceable pull tips
◎  Ability to lift and pull round, square, oval or curved pallets
◎  When loading with a forklift, the ability to reload off-center products
◎  Automatic adjustment to all pallet sizes.
HEADER REMOVAL FROM CONCRETE PIPE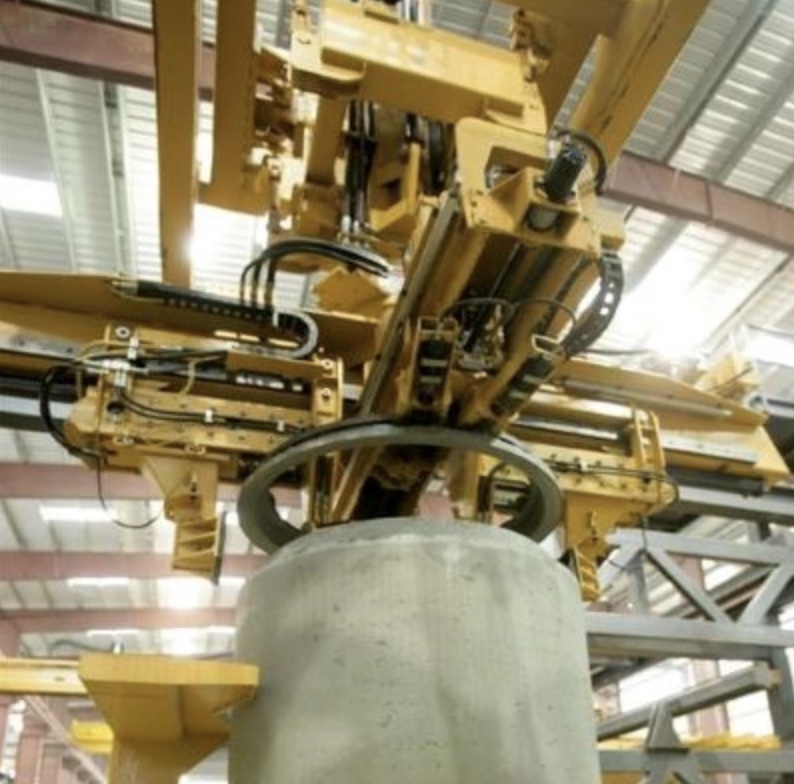 Removing headers (top rings) from cured concrete pipe is a delicate, time-consuming process that, if done improperly, can result in damage or pulling out the spigot end - necessitating the scrapping of the concrete pipe.
HawkeyePedershaab's patented header ring removal system uses the "D-Wedge" principle to remove rings eliminating the potential of damage to the spigot end.
HawkeyePedershaab's ring removal systems capture the milled groove in the ring at two or four points and use a combination of pneumatic tapping and a gentle hydraulic pull, which leads to rapid ring removal.
In fully automated systems, the top ring removal device is built into the product handling module, while in stand-alone or semi-automated systems, the pipe is moved to the ring removal station using a forklift or electric transport truck.
Benefits:
◎  Eliminates dangerous and time-consuming work
◎  Protects rings and headers from damage caused by sledgehammers or dropping
◎  Opatentowany Patented "D-Wedge" removal system to protect spigot ends
◎  Easily replaceable pulling bits
◎  Ability to pull out round, square, oval or arch shaped profiles
◎  Simultaneous with pallet removal, reducing cycle time
◎  Automatic adjustment to all ring sizes.
Tippers play a special role in product handling systems, whose use for heavy, large-sized products significantly improves plant efficiency and work safety.
As concrete pipes are manufactured and cured in a vertical position, in most cases it is necessary to tilt them to a horizontal position for storage and transportation.
However, due to the weight of the product, tilting concrete pipes is a dangerous and time-consuming operation.
Automatic tippers quickly perform this operation and eliminate the human operator, ensuring maximum safety.
Benefits:
◎  Eliminates costly labor at the plant
◎  Increase plant safety by keeping workers out of the operation
◎  Can handle round, box, arch and oval shaped products
◎  Soft, computer-controlled movements prevent product damage.
CONCRETE PIPE SORTING SYSTEMS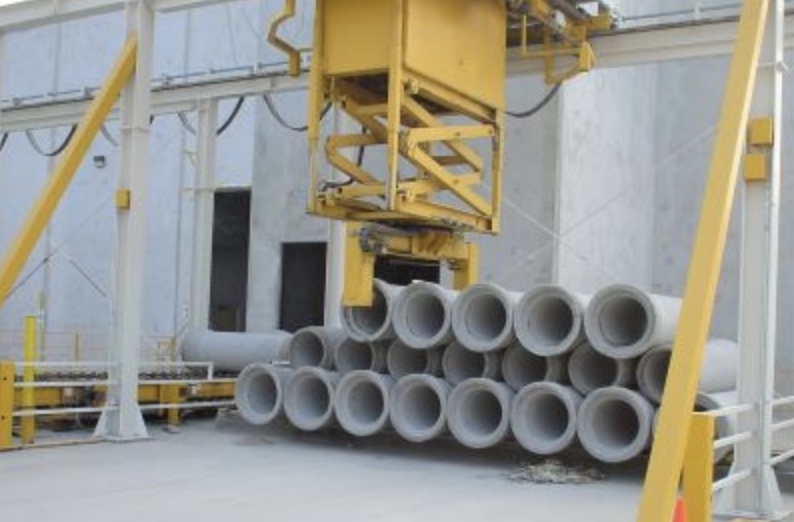 One of the benefits and characteristics of mass production systems is their ability to produce two or even three sizes of concrete pipes simultaneously.
Such mass production reduces pallet and mold investment while increasing plant flexibility.
In automated systems, Afinitas supplies sorting systems as the final step in the robotic pipe handling process. Sorting systems sort pipes into similar diameters to facilitate forklift stacking.
Afinitas provides two different solutions for this task, using either an overhead stockyard crane or a turntable coupled with three separate outfeed rails. This allows the customer to choose the system that best suits their plant layout.
Benefits:
◎  High-speed sorting systems allow concrete pipes to be buffered, preventing the forklift operator from stopping the entire production line
◎  Sorting pipes into similarly sized pipes allows forklifts to operate quickly and logically.
To improve the aesthetic appearance of a concrete pipe, it is necessary to remove roughness from the inner and outer edges of the joint shoulders of the pipe's bell and spigot end.
Afinitas has automated this process with the use of pneumatically powered crushing cones that grind away the roughness at the edge of the pipe, leaving clear, sharp edges of the joint.
Systems for removing roughness from product edges can be customized to include both internal and external deburring of both spigot and bell ends, or any combination of the above.
Benefits:
◎  Reduction of costly and dangerous labor
◎  Improved pipe aesthetics
◎  Computer control adjusts pressure according to cone tip wear
◎  Easy replacement of crushing cones made of special A1 tool steel
◎  Fast cycle time prevents the deburring process from becoming a bottleneck in the factory
◎  Automatic adjustment to all pipe diameters
◎  Ability to deburr round, oval and arch pipes.
CONCRETE PIPE PRINTING - INSIDE AND OUTSIDE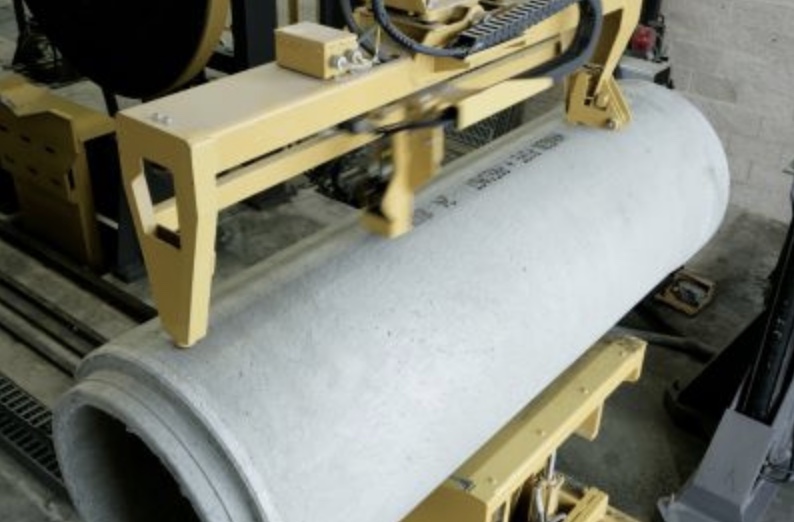 Afinitas offers solutions for printing both inside and outside of pipes.
The printing devices are equipped with a structure that supports and guides the printing device, a linear actuator and a 32-valve, one-color inkjet printer with a five-liter ink supply and a low-ink warning indicator.
The printing equipment starts automatically when the concrete product enters the marking station.
The pipe printer can print a wide range of numbers and letters and is integrated with the operator interface so that all pipes can be marked with a production mark, date, manufacturer code or logo.
In addition, the printer can be integrated with a vacuum inspection station or a bell/spigot end measurement system to indicate a passed vacuum test.
Benefits:
◎  Reduces labor effort
◎  Allows dates, production information, manufacturer codes and/or logos to be placed on pipes
◎  Fast handling prevents bottlenecks in the plant
◎  Automatically adjusts to all pipe sizes.