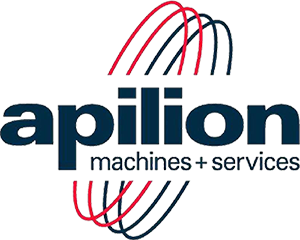 APILION - Advanced solutions for efficient production processes
Apilion Maschinen und Fertiganlagen has been successful in the world markets for decades as a leading manufacturer of automatic cage welding machines for the production of reinforcement cages for precast concrete components: concrete pipes, manholes, box culverts, driven and bored piles, poles, girders, pillars and columns as well as other structural elements.
As the direct successor to the former Züblin Maschinen- und Anlagenbau GmbH, which has produced more than 300 machines since its foundation in 1957, Apilion offers customers all over the world machines and solutions that are precisely tailored to their needs and requirements. The take-over of Züblin Maschinen- und Anlagenbau GmbH took place in 2011.
THE APILION PRODUCT RANGE INCLUDES:
◎ cage welding machines for the production of reinforced concrete pipes, prestressed pressure pipes, prestressed pressure piles and poles, masts, girders  and columns
◎ mesh welding plants
◎ hoop welding machines
◎ mesh plants for the fabrication of cages for box culverts.
APILION MACHINE AND PLANT SERVICE
Apilion offers a 24/7 service worldwide. The range of services provided includes also servicing and maintenance of machines from other manufacturers (modernisation, maintenance, rebuilding and servicing of machine parts).
APILION - WORLD MARKET LEADER IN FULLY AUTOMATIC CAGE WELDING MACHINES
Apilion's automatic welding machines enable the precise production of reinforcement cages for reinforced concrete pipes, drilled and driven concrete piles, concrete masts and columns and other prefabricated elements.
Their use makes it possible to produce the reinforcement cages directly from a coil in the diameter range from 100 mm to 6000 mm in infinite lengths without stopping the machine. The number and diameter of the longitudinal wires can be variable. Depending on the type of prefabricated element, the Apilion machines can be equipped and programmed to produce reinforcement cages with different profiles and no length limits.
In semi-automatic machines, the longitudinal wires cut to their length are fed manually. The semi-automatic welding machines are designed to produce heavyweight reinforcement cages for bored piles, columns and girders.
The BCM mesh welding machine makes it possible to produce  engineered mesh and cages for box culverts, septic tanks etc. A key feature of this machine is its flexibility, which makes it interesting not only for precast manufacturers, but also for companies supplying their customers with ready-made reinforcement at the construction site. In some cases, the use of this machine results in considerable savings in the corresponding production of reinforcements due to the saving of connecting reinforcement.
Thanks to the modular design of the machines, Appilion offers customers customised solutions for any special requirements.
Apilion exclusively obtains all important components used in the production of the machines, such as motors, drives and control systems, from renowned suppliers such as SIEMENS, SEW and others who maintain service departments worldwide.
THE APILION PRODUCT RANGE INCLUDES:
cages for concrete pipes:
◎ SMS - series
◎ ASMS - series
◎ VSM - series
Cages for piles:
◎ VSA
◎ USM - series
Rings for manholes:
◎ HVM
Cages for poles:
◎ PSM
Cages for frame profiles:
◎ BCM