Circulation lines for prefabrication - intelligent plant concepts and solutions optimally tailored to the customer's needs

VOLLERT GMBH – HIGH PERFORMANCE AND EFFICIENT PROCESSES
Founded in 1925 in Weinsberg as a metalworking workshop, Vollert has been offering patented solutions in mechanical and plant engineering for industry for more than 90 years.
The continuous development and steady growth from a small family-run business to an international general contractor with subsidiaries in Asia, South America and Russia are evidence of the consistence of company's actions, the high quality of the offered solutions and the innovative strength of the company.
The passion and commitment put into the numerous projects that Vollert carries out around the world place it as a pioneer in the area of internal logistics solutions for a wide range of industries and as a global technology and innovation leader.
The Engineering Your Success slogan has guided the company's activities for more than 90 years, as the company sees itself not only as a first-class supplier of machines and systems, but also as an accelerator of success for its customers.
In its operations, the company is driven by the values of an open corporate culture with flat hierarchies and short decision-making paths. Customers appreciate out-of-the-box thinking and an active dialogue that allows risks to be identified and eliminated at an early stage. Vollert sees challenges as opportunities that can always be exploited and turned into an advantage for the client.
Vollert GmbH offers automated solutions in the area of:
◎ the handling of intralogistics processes for the aluminium industry, the steel and metal industry, the automotive industry, container logistics (fully automatic storage rack systems and intelligent material flow systems, including crane systems with a lifting capacity of over 50 tonnes);
◎   surface coating systems for large components and heavy loads for the automotive, commercial vehicle and traffic engineering industries (floor-free systems for components weighing up to 50 t, floor-based conveyor systems for components weighing up to several hundred tonnes, including systems for wet paint and powder coating, as well as handling systems and workpiece handlers for dip coating);
◎   surface preparation systems for the painting process (blasting systems for heavy and large components) for railway shunting and loading systems;
◎   lifting systems for industry and construction ( bridge cranes, semi-portal systems, cranes in fully or semi-automatic mode with lifting capacities from 2 tonnes upwards)
◎    mould circulation systems for the manufacture of prestressed concrete sleepers and low-vibration tracks for the railway industry (mould circulation systems for monobloc and bi-block sleepers, with option of late or immediate demoulding)
◎ machinery and equipment, including highly automated multifunctional plants and circulation lines for prefabrication for the concrete prefabrication industry.
Vollert's offering is not limited to the design and delivery of system solutions for the handling of heavy loads and their integration into the larger logistics environment. The company's capabilities also include the planning and implementation of turnkey plant technology.
System solutions for the precast concrete industry:
Vollert is a leading partner providing know-how for concrete plants, construction companies and developers in the field of modern precast concrete production. Intelligently thought-out plant, machine and circulation lines for prefabrication concepts, optimum customisation of solutions and after-sales service including safe and uncomplicated remote diagnostics for even highly complex technical faults - all this makes Vollert a competent and reliable partner for the projects you are planning or implementing.
PREFABRICATED ARCHITECTURE IS SETTING TRENDS
Prefabricated engineering is setting new trends in residential and industrial construction worldwide and demonstrating what is architecturally possible today. From single-family homes and multi-storey residential buildings to multifunctional industrial buildings and high-quality, sophisticated facades - there are no limits to prefabrication today.
At the same time, the prefabricated construction method is significantly cheaper and faster to implement than conventional building technology. Fixed schedules for construction project and industrially controlled processes in the production of precast concrete elements ensure reliable construction progress in a much shorter time compared to conventional construction methods. Guaranteed high quality construction and low construction costs are additional benefits, which you can read about in our article.
In addition, the modern method of prefabricated construction achieves very good energy efficiency ratings, has high weather and fire resistance, and makes it possible to implement construction projects in earthquake zones. Furthermore, compared to the existing monolithic construction method, it enables a reduction in CO2 emissions by 25% and water consumption by 50%.
Vollert offers comprehensive knowledge of current technology for the production of flat and spatial precast concrete elements and the most economical production processes.
AUTOMATED SYSTEM SOLUTIONS FOR THE MANUFACTURE OF WALLS AND FLOORS:
Double walls:
A double wall consists of two concrete slabs, each 5-7 cm thick, which are held together by truss-type reinforcement embedded in the precast elements.
The space between the slabs is filled with mixed-in-situ concrete. This is why the wall created in the factory is described as a semi-prefabricated element. As soon as it is filled, it creates a monolithic, dense and solid double wall, which is used in basements and on every storey.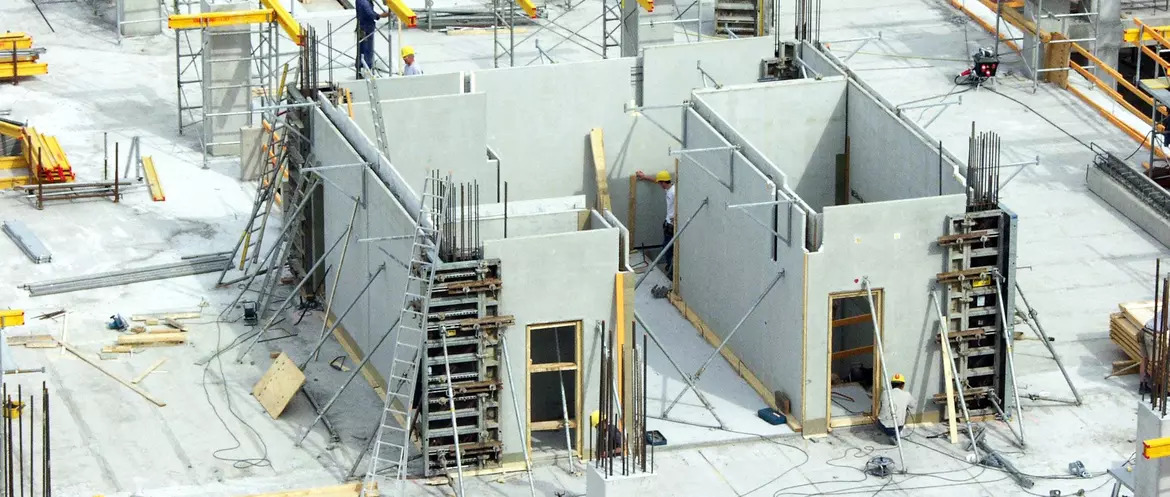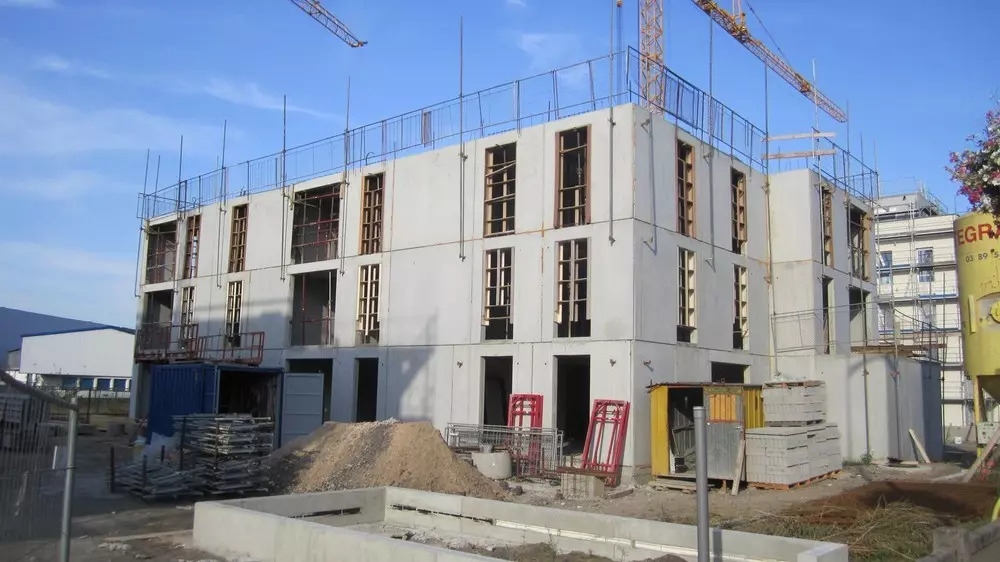 Systems technology for double wall production:
◎ Pallet circulation system
◎ Flipping table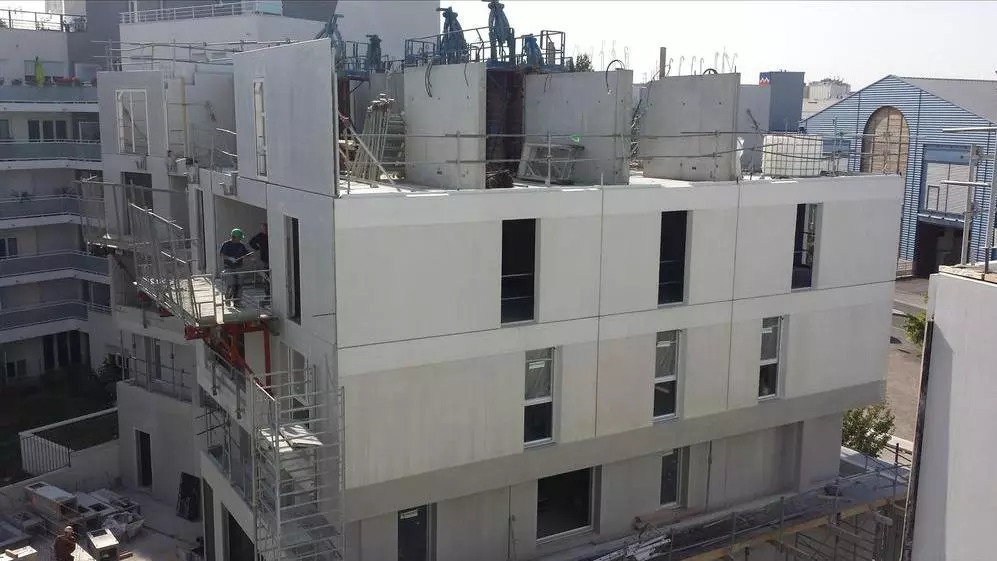 Double walls with insulation
Insulated double walls have internal insulation between the concrete slabs, which offers completely new application possibilities and guarantees compliance with the regulations for the thermal insulation of buildings.
Systems technology for insulated double wall production
◎ Pallet circulation system
◎ Flipping table
Sandwich walls are used for façades. They are characterised by an insulating layer that is enclosed by concrete on both sides.
On one side there is the load-bearing structure of the sandwich wall with the required static reinforcement, and on the other side there is a concrete coating that gives the appearance of the sandwich wall and the building. This visible coating is often made of coloured concrete or has surface structures of various types.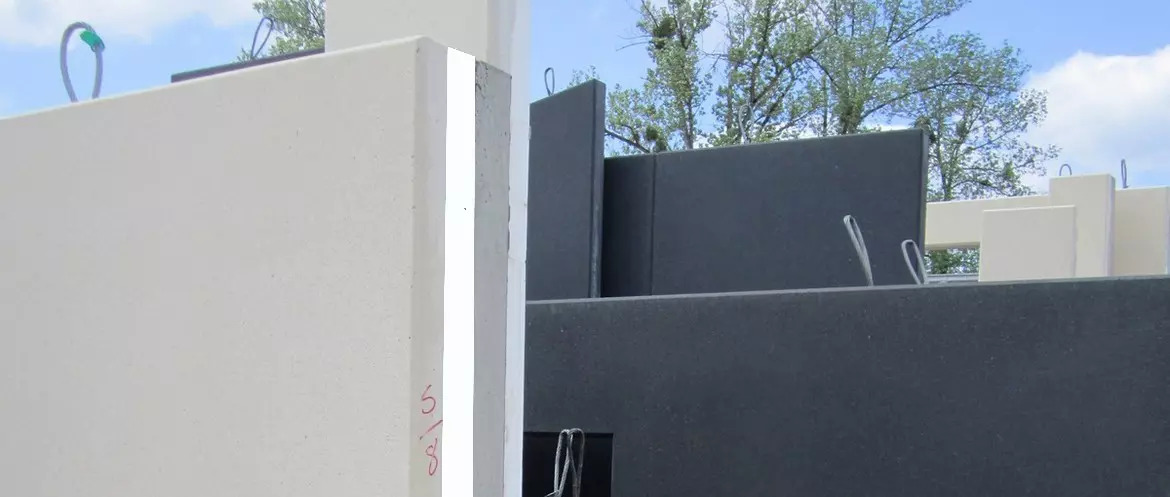 Technika systemowa do produkcji ścian podwójnych:
◎ Pallet circulation system
◎ Flipping table
Solid walls consist of solid concrete wall elements with a thickness of 10 - 50 cm made of normal or lightweight concrete. The reinforcement that is required for static reasons is installed in the factory, although it often only functions as transport reinforcement, especially in the case of lightweight concrete elements.
Solid walls are used for load-bearing and non-load-bearing basement inner walls and for load-bearing and non-load-bearing ground and ground floor walls.
Compared to a double wall, the main advantage is that no mixed-in-situ concrete is used, allowing construction to progress quickly.
Solid walls used for internal as well as external walls are prefabricated elements that do not require concreting on site when compared to a double wall.
Solid floor slabs are manufactured using a similar manufacturing process as solid wall slabs. They are usually around 20 cm thick and all the necessary static reinforcement is installed in the prefabrication plant. Compared to a precast component floor, the main advantage is that no in-situ concrete is required for construction, enabling construction to go forward faster.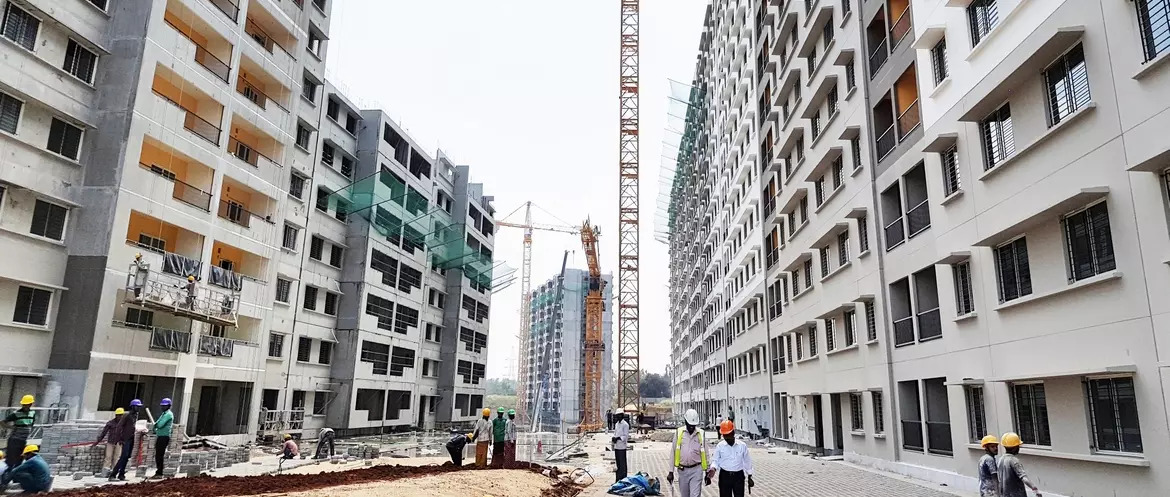 System technology for solid wall & floor production:
◎ Pallet circulation system
◎ Tilting table
◎ Long-line bed and formwork table
◎ Battery mould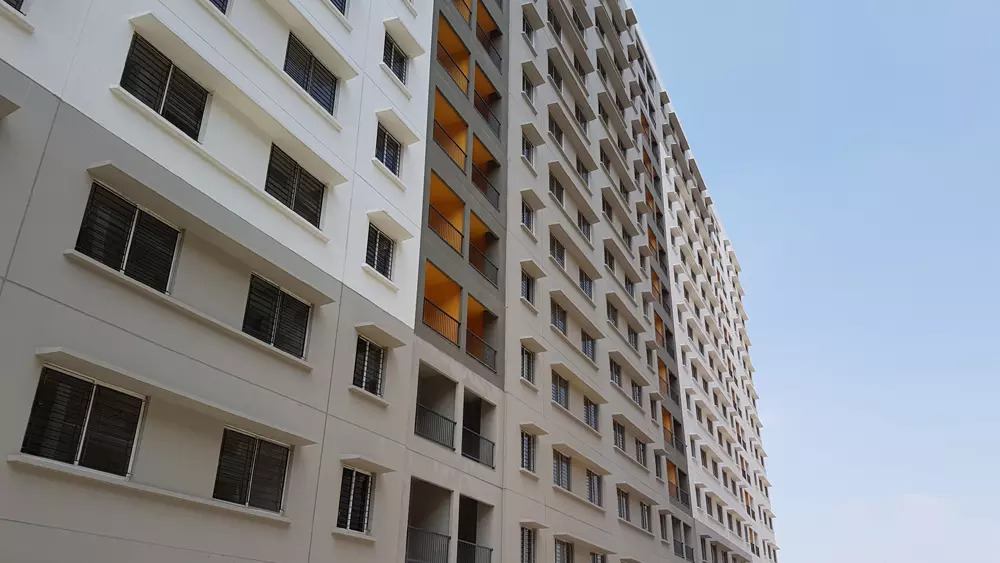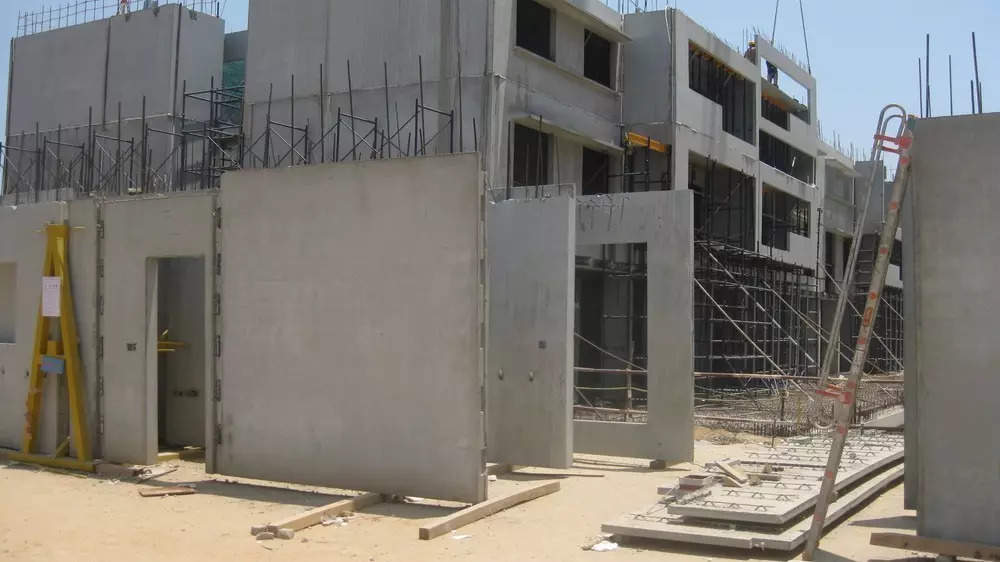 Facade elements are industrially produced solid walls that feature a wide range of high-quality surfaces. The spectrum is large and ranges from traditional concrete surfaces with exposed aggregate, through clinker and matrix structures to marbled surfaces.
Often, several types of concrete are used. All reinforcements for the structural stiffness are installed in the factory depending on the intended use. Precast concrete façade elements are very often used as curtain -type (non-load bearing) façade elements.
System technology for façade elements production:
◎ Pallet circulation system
◎ Tilting table
◎ Long-line bed and formwork table
◎ Battery mould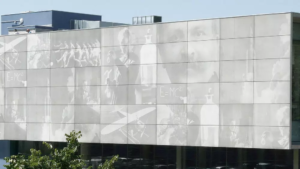 MOTUS hollow core slabs
In hollow core slabs, there are special internal spaces cut out, which significantly reduces their weight. They are therefore an extremely economical solution when taking into account transport and assembly over large areas on the construction site.
In addition, hollow core slabs can be combined with almost all types of walls and ceilings and can be made in reinforced or prestressed versions. Further advantages are the low construction heights for high additional loads and the pore-free view from below.
STANDARD HOLLOW CORE SLABS:
The production of non-prestressed hollow core slabs - also known as DX slabs - allows significant material savings. This is made possible by a weight reduction of up to almost 40% compared to a solid floor slabs. The thickness of a standard hollow core slab is 20 and 24 cm, and the reinforcement is factory-built into the concrete part by the manufacturer.
Advantages from using hollow core slabs:
can be laid without supports;
no concrete bedding is required on site (no moisture during construction work); quick assembly: shorter construction time and lower costs;
quick assembly: shorter construction time and lower costs;
smooth and uniform bottom layer after joint grouting is ready for further processing (unless the ceiling is equipped with ring anchors - then mixed concrete is required).
System technology for MOTUS hollow core slabs: 
◎ Pallet circulation system
Biaxial hollow core slabs
In case of the biaxial hollow core slab, special displacers are introduced to reduce concrete consumption. Only after installation on site the remaining cavities around the displacement bodies are filled with concrete.
The market offers a wide range of displacement systems. The main advantage of this solution is the considerable savings (approx. one third) in deadweight, and the occurring payloads are transferred biaxially. In addition, very large spans are achieved with low structural heights.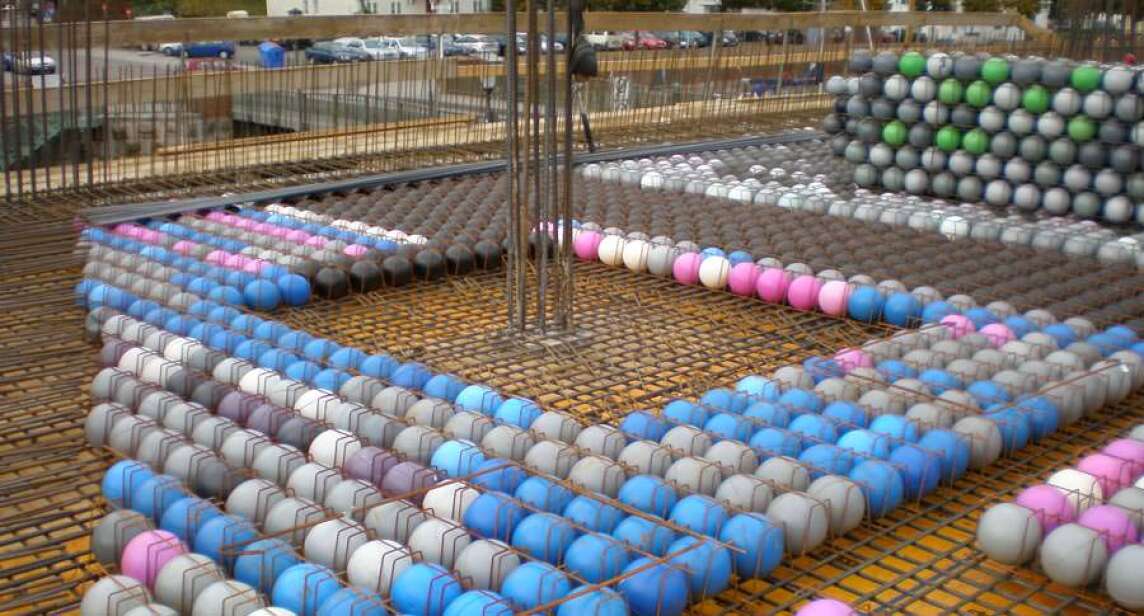 System technology for biaxial hollow core slabs:
◎ Pallet circulation system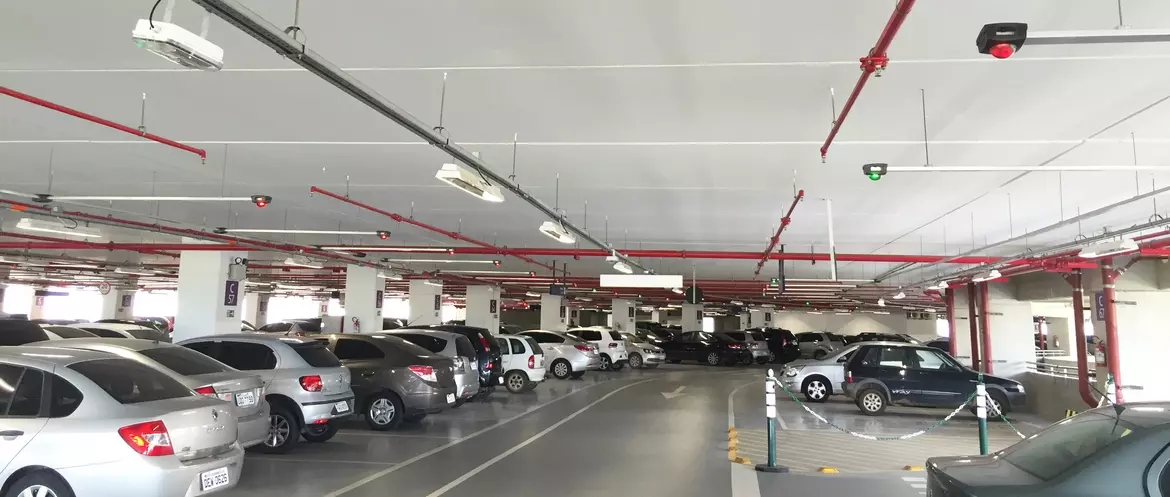 Filigree slab / Floor slab
A filigree slab is a reinforced concrete slab with a minimum thickness of 5 to 7 cm, depending on the thickness of the concrete covering and the reinforcement. A filigree is a semi-precast element in which the structurally required reinforcement of the lower floor is integrated.
The reinforcement in filigree slabs is resistant to the bending (lattice beams) required for assembly stiffness and to the bending tension in the longitudinal and transverse directions required for assembly and final state.
The in-situ-concrete poured at the construction site completes the filigran slab to form a solid and monolithic reinforced concrete floor. The thickness of the finished floor slab ranges from 12 to 30 cm, depending on the span and load.
The protruding grid reinforcement and the concrete surface itself provide the required anchorage, ensuring good bonding and adhesion between the finished element and the poured concrete.
Apart from some differences in the measurement of the loading force, the floor slab can be seen from a structural point of view to be the same as a floor that has been manufactured on site by pouring mix-in-situ concrete into the formwork. The filigree slab thus combines the main advantages of prefabrication with those of floors produced on site from concrete poured into formwork.
System technology for filigree slabs production:
◎ Pallet circulation system
◎ Long-line bed and formwork table
Today, modern, large-scale logistics and dispatch centres are being built in ever shorter intervals. Increasingly larger spans and sidewall heights are required in hall buildings to create support-free and space-optimised storage areas. Steel scaffolding is proving to be an inadequate solution in many cases.
Prestressed concrete columns and beams, on the other hand, perform very well. Above all, they are variable in terms of the dimensions and geometry of the elements. This is all the more important as construction today is often no longer standardised and is only carried out using standard parts.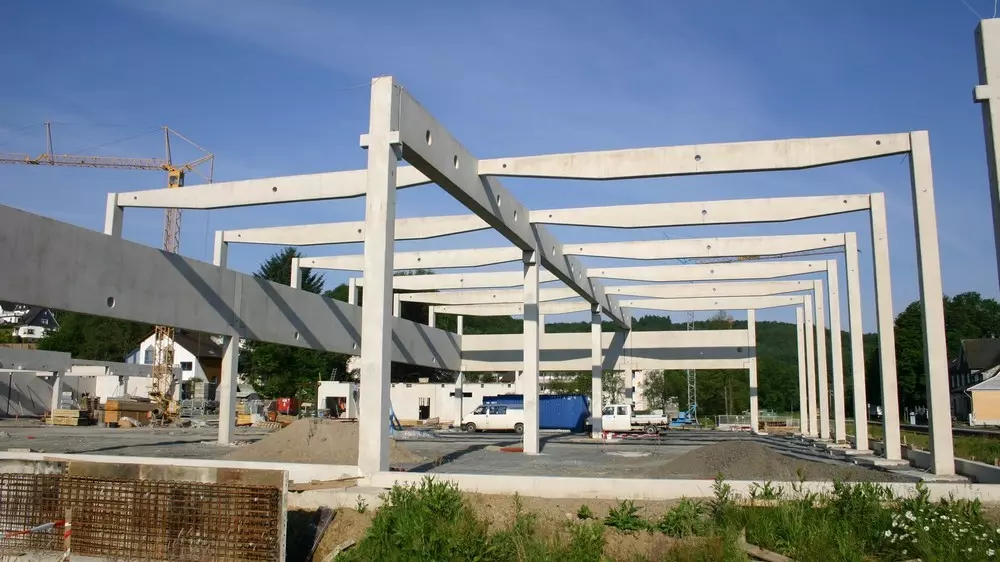 System technology for columns and beams production:
◎ Column mould
◎ Beam mould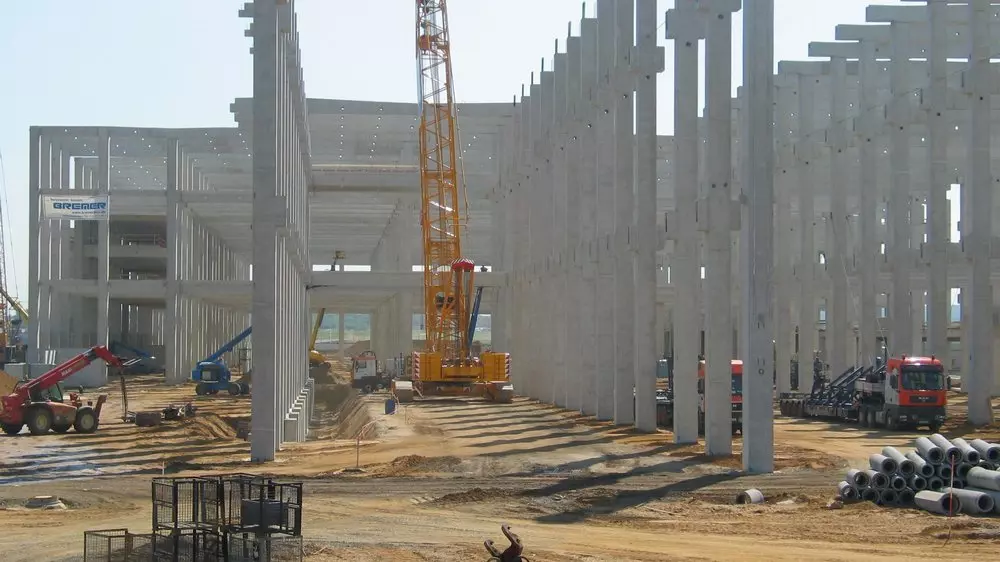 TT concrete slabs are used for high loads of 25 kn/sq m and above, which is the case, for example, of wide parking structure floors.
Prestressed floors reach a support span of up to 20 m at constant height. Variants with and without mix-in-situ-concrete are possible.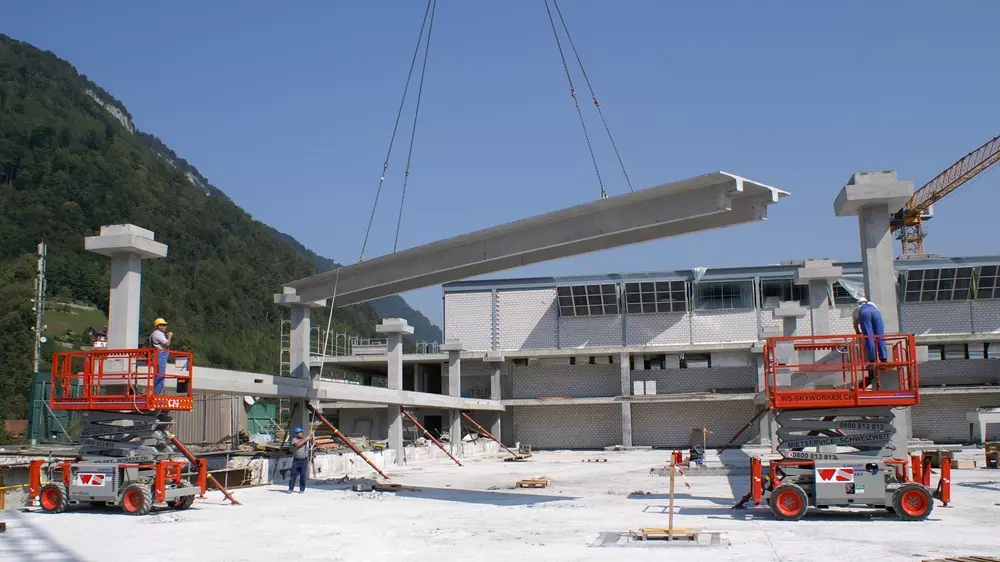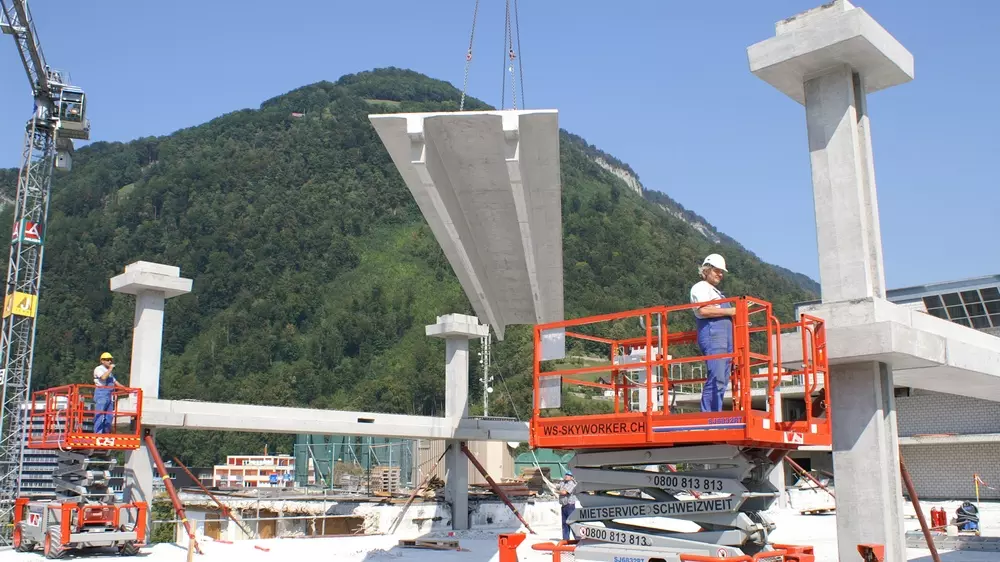 System technology for TT slabs production:
◎ TT mould
It is difficult to imagine modern residential and industrial construction today without precast concrete stairs. The use of this solution makes it possible to significantly reduce construction time and simplify final assembly. In addition, the consistently high quality of the exposed concrete is guaranteed.
System technology for precast stair production:
◎ Stair mould
Solutions for precast concrete production:
◎ Automated solutions for walls and floors:
◎ Stationary solutions for walls and floors:
◎ Formwork systems for structural precast elements:
◎ Machines and components:
◎ Circulation technology:
◎ Loading systems:
◎ Run-off systems:
◎ Plant control and visualisation:
Circulation lines for prefabrication Vollert
Concrete precast elements are used in the construction of residential, industrial and non-residential buildings. Precast components make the construction of bridges, viaducts, urban or railway infrastructure much faster. Prefabricated structures are stable, strong, sturdy and can be built in a shorter time, so that the building can be put into use more quickly. However, the right prefabrication line equipment is key - Vollert is a leader in this type of solution.
Circular prefabrication lines
Vollert offers, among others:
circulation lines for the production of walls and ceilings
stationary and tilting tables for the production of walls and ceilings
battery moulds for building elements
moulds for stairs, balconies, prestressed floors
circulation lines for the production of railway sleepers
moulds and automated lines for the production of reinforced and prestressed concrete beams and column
moulds for warehouse docks
Please do not hesitate to contact us - as a Polish representative of Vollert, we will tailor solutions to your production needs.